Irvine, Richmond and San Antonio to co-host first Series stop of 2021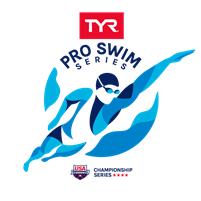 COLORADO SPRINGS, Colo. – USA Swimming, the national governing body of swimming in the United States, announced today its intention to host the first TYR Pro Swim Series of 2021 from January 14-17 in three cities across the country. The multi-site event will take place in Irvine, Calif.*; Richmond, Va.; and San Antonio, Texas and will feature approximately 600 of the nation's top swimmers.
The primary site in San Antonio will feature an invite-only field comprised of the top ranked U.S. swimmers. The east and west sites in Richmond and Irvine will host up to 100 female and 100 male athletes respectively, based on current U.S. Olympic Trials time standards. Qualified swimmers must be eligible to represent the U.S. in international competition. Results from each site will be combined by USA Swimming and published in a comprehensive results report. The Online Meet Entry (OME) for the Richmond and Irvine sites will open on Tuesday, December 15 at 10 a.m. Mountain Standard Time (MST) and close on Friday, December 18 at 11:59 p.m. MST. All local, state, and federal health guidelines will be strictly adhered to at each competition site and entry limits will reflect these local restrictions.
"The racing across these three TYR Pro Swim Series sites will set up some of the most explosive head-to-head competition to kick-off the Olympic year," USA Swimming Managing Director of the National Team Lindsay Mintenko said. "We're treading lightly but remaining optimistic and excited to map out a strong domestic competition schedule in 2021."
Historically, the TYR Pro Swim Series has consisted of a series of 3.5-day long course events, each attracting between 400-600 of the world's top swimmers including, USA Swimming National Team members, Junior National Team members and top-50 world ranked swimmers.
The January 2021 TYR Pro Swim Series event will air live on NBCSN, Olympic Channel and be live-streamed on usaswimming.org.
USA Swimming continues to look for the best and safest possible ways to host national level events in preparation for the U.S. Olympic Team Trials – Swimming and the Olympic Games in 2021. Future 2021 event dates will be announced in the new year. For more information about the series, visit https://www.usaswimming.org/tyr-pro-swim-series.