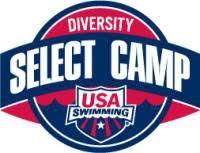 Each spring, USA Swimming invites 48 athletes from underrepresented populations to participate in a three-day camp program which includes pool training, motivational and education sessions and team-building activities. Selection is based on times swum at USA Swimming sanctioned events.
This year the National Diversity Select Camp for athletes ages 14-16 will be held in Colorado Springs on May 2-5. Each athlete selected for the camp is provided free room and board at the Olympic Training Center, ground transportation in Colorado Springs and full airfare to Colorado Springs.
Congratulations to NCS athletes Charles Clickner (TEAM) and Steven Insexiengmay (TYDE) on their selection to the camp! Also congratulations to Coach Jamie Bloom (YOTA) on her selection to the camp staff!
Click here for the National Diversity Select camp roster
Click here for the National Diversity camp coaching staff roster