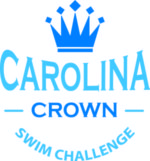 The annual Carolina Crown Swim Challenge will be held on Saturday, April 23, 2022 at the Westside Aquatic Facility in Greenville, South Carolina. This is the seventh Carolina Crown and will feature top 15-18 year-old athletes from North Carolina and South Carolina.
The qualifier list along with athlete application forms will be posted on March 22, 2022. Qualifiers will be determined from short course times achieved between 9/2/21 and 3/20/22.
Final selections will be posted on April 2, 2022.
More details on the event, including the meet announcement, will be posted as they become available.